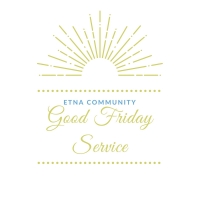 Community members gather on Good Friday for the annual "Drama of the Cross" presentation by the Etna Community Churches.
The procession will lead from the playground, down Pine and Locust streets and up High Street where church members will erect and adorn the cross on a hill in the Congregational Church Cemetery. The public is invited and encouraged to attend. Participants will be asked to disperse from the cemetery in silence.
Sponsored by — Emmanuel Lutheran Church, All Saints Church, First Congregational Church of Etna, Three Rivers Praise & Worship and Calvert Memorial Presbyterian Church.